GREENPEACE MAGAZINE
Greenpeace magazine goes viral
A printed magazine reaches out to new readers in the internet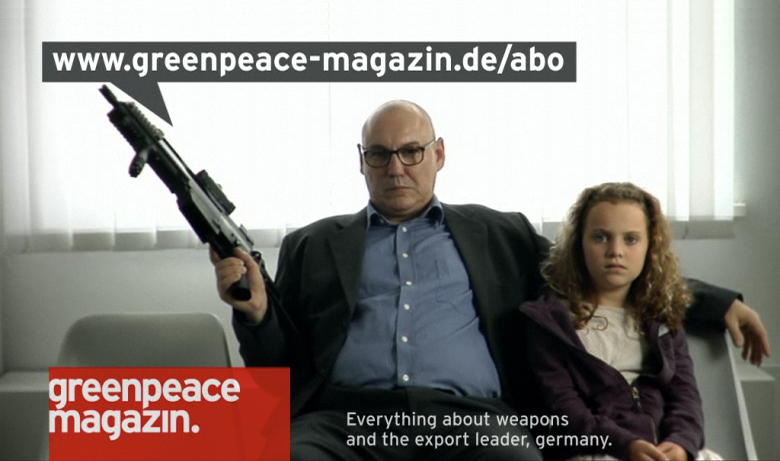 The Greenpeace magazine is an independet print publication based in Hamburg. Even though it has 100.000 regular subscribers, still many people don't know about the wide scope of themes covered by the magazine all geared around a sustainable lifestlye: politics, travelling, fashion, justice, practical tips for everyday life etc. ...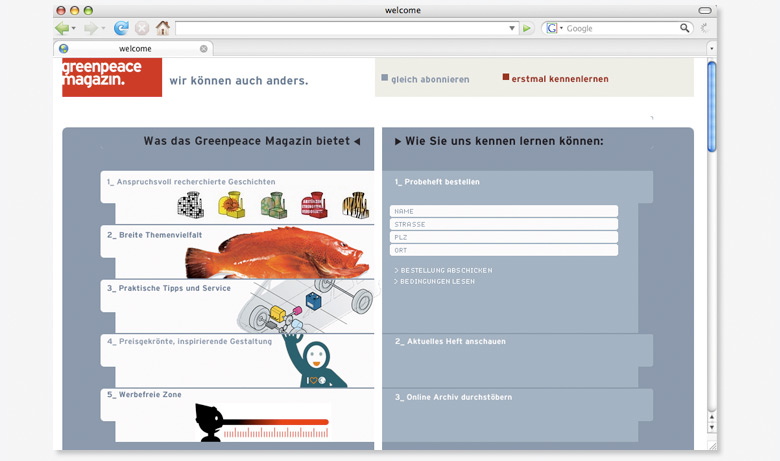 To reach out to new readers a website has been set up to promote subscriptions. The site also serves as a home for the internet campaign which is based on three short films spread throughout online platforms such as YouTube but also - more importantly - on blogs and forums with a potentially interested audience.
This text will be replaced
Greenpeace is still believed to be about environmental issues solely. The spots show that there is much more beyond the expected for a politically interested audience. For example integration policies in Germany where immigrants have to pass a controversially discussed test in order to be allowed to stay ...
This text will be replaced
Many people don't know that Germany (which is very proud of its peacefull post-war history) is the world export leader for weapons after the USA. Those weapons are used by military in dictatorships all over the world, from Birma to China to the Taliban in Afghanistan ...
This text will be replaced
As a result the spots have been viewd by more than 50.000 people. This has led to a high reponse quote on the subscription website and a very positive echo in forums and blogs where the spots have been published.