VIVA TELEVISION
VIVA clip creator: an interactive community for a TV channel
30.000 viewers create their own TV clip to go on air
This text will be replaced
Broadcasting as a one-way street of communication is a concept of the past. Television in the near future will be interactive. Content and the medium utself will be shaped by the viewers themselves. The VIVA clip creator anticipates this future and makes television interactive already today ...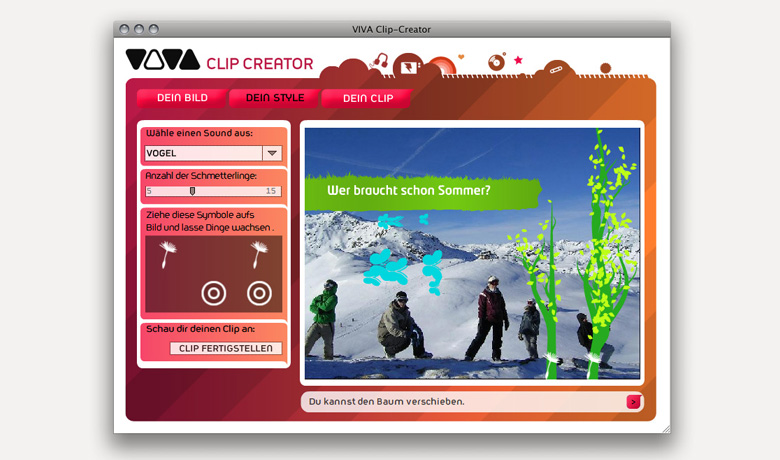 The VIVA Clipcreator is an online application that allows the viewers of the TV channel VIVA to create their own tv clips. Each clip is based on a photo that is uploaded by the viewer. The clips are then broadcasted as adbrake bumpers.
This text will be replaced
The Clipcreator provides the users with a fun interface that allows them to create individual clips. The combination of the user's creativity and generative design elements like flocking behaviour or organic growth makes sure that every clip is unique! At the same time, every clip fits into the look and feel of the channel design.
This text will be replaced
The Clipcreator is a great tool for involving the viewers in the apperance of the VIVA tv channel. The project has been an enormous success. In six months 30.000 viewers have created their own clips and have get in touch with the VIVA brand. Viva Clip creator